"I don't believe in taking the right decisions, I take decisions and then make them right".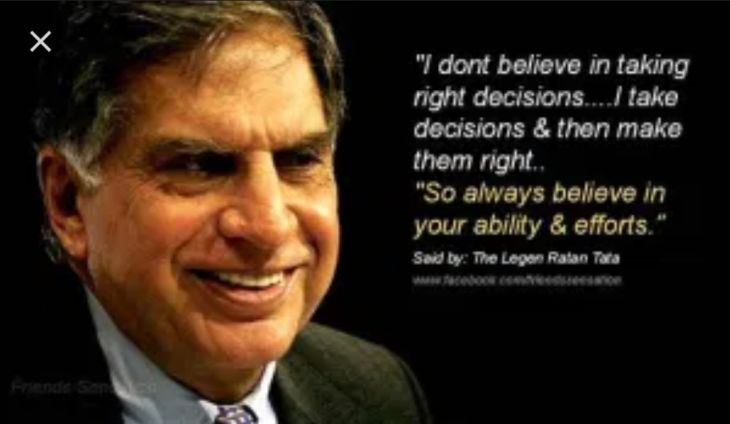 One of the Ratan Tata's inspiring words which made me dream beyond shadows. I feel fortunate that I discovered him in the early stage of my life and now I am using his teachings to mold my future the way I want.
Even though Ratan Tata was born in a very posh family of India he never took money and power for granted. He graduated from Riverdale Country from New York Ratan Tata began his career in the Tata Group, working on the shop floor of Tata Steel, shoveling limestone, and handling the blast furnace. After working for almost 10 years he was appointed as the Director-in-Charge of the National Radio & Electronics Company Limited (NELCO) in order to help its struggling finances. He worked towards building a better consumer electronics division but the economic recession and union strikes prevented him from achieving success and this success helped Tata to be appointed as the Chairman of the Tata Group of Companies. He started with a very basic job in his father's company and today he owns a billion-dollar company.
The tag of greatness does not come without making any sacrifices and this tag on Ratan Tata suits to it's best. 
Tata group launched its passenger car Tata Indica in the year 1998 but Tata Indica was a failure in its first year and the experiment seemed to be failing. Many people started advising Ratan Tata that he should sell the passenger car business. Ratan Tata also agreed to this and a proposal was given to Ford, they showed interest too. The three-hour meeting at Ford headquarters in Detroit, chairman of Ford (Bill Ford) said to Ratan Tata, "why did you enter in the passenger car business when you were not knowing of it. It will be a favor if we buy this business from you".
Ratan Tata decided to move back home. While traveling, he was very tense as the feeling of being insulted was on his mind. After earlier failures, Tata Motors did well with its business of passenger cars but in the same period, Ford did very bad. In 2008, when Ford was on its way of bankruptcy, Tata Group offered Ford to buy its luxury car brand, Jaguar-Land Rover. Ford arrived in Mumbai for the meeting. In the meeting, Bill Ford said to Ratan Tata, " You are doing a big favor for us by buying Jaguar- Land Rover".  Jaguar- Land Rover is now owned by Tata Group and is currently making profits.