Best Bollywood movies of all time which you can watch over and over again!!!!
Hello readers,
Hope you all are doing great. Looking at the topic you all must have understood what this article is about. Yes!! "Indian cinema", the article itself becomes interesting when we talk about the topics which are relatable. Same happens here, a child of 5 years or a man of 50 all are crazy about Indian cinema and Bollywood movies. We can discuss over n numbers of movies day and night.
In this article you will definitely know about some iconic movies which one should watch. But before I proceed with my list of movies let me tell you about our Bollywood. So just hold your coffee mug, sit back on your chair and enjoy this article.
Mumbai, India's entertainment capital and home to Bollywood, is one of the most prolific centers of film production in the world. Yet there are so many misconceptions about the industry in the minds of even hardcore cinephiles that before describing what is Bollywood, it becomes an imperative to describe what is not Bollywood. Films are made in various other languages in India, and each language's industry carries its own name (such as "Tollywood" and "Kollywood").
Some like Allu Arjun whereas some like Shahrukh Khan, but all these superstars belong to one industry i.e., Bollywood.
Here I present the top 5 movies according to me which are best of all time.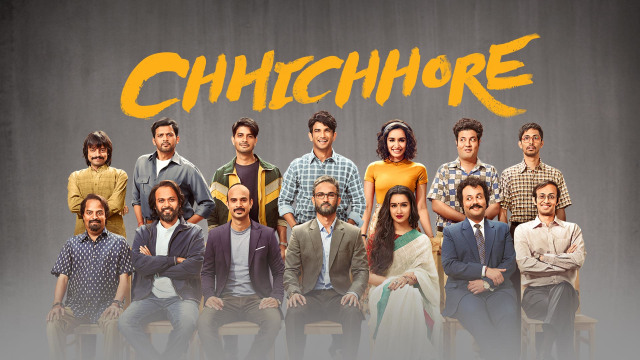 Chhichhore (2019)
Chhichhore is an Indian hindi-language comedy drama film directed by Nitesh Tiwari, written by Tiwari in association with Piyush Gupta and Nikhil Mehrotra and produced by Sajid Nadiad Wala.
This movie is all about college life, friends and the problems we face in our life. The film tells the story of Anirudh "Anni" who is a middle-aged divorcee whose son Raghav tries to commit suicide but survives, though he is in a critical condition for his unwillingness to live out of fear he would be called a "loser". Here Anni narrates his college life along with his friends who were known as losers.
Every character in this movie is teaching us something. This movie is especially for teenagers or college going students with lots of humor, fun, entertainment and drama.
One should definitely watch this movie if you have not watched till now…
Om Shanti Om (2007)
Om Shanti Om is an Indian hindi-language romantic fantasy comedy film directed and co-written by Farah Khan with Mayur Puri and Mushtaq sheikh.
This story is about a junior artist "Om" who had a crush on a secretly married superstar. In the movie her lover kills her in fire and to which Om witnessed this and dies from the injuries sustained from trying to rescue her. We see the rebirth of om and to which when he remembers all the past incidents and decides to take revenge. Also this movie has awesome songs collection.
This story is quite interesting and romantic. I personally can watch this movie thousands of times.
Bulbul (2020)
Bulbul is an Indian hindi language thriller film written and directed by Anvita Dutt.
This movie is set in a backdrop of 1880's Bengal presidency. It revolves around child-bride and her journey from innocence to strength. It was released on Netflix on 24 June 2020.
So, it was lockdown and I came through this awesome movie "Bulbul ''. This movie has a beautiful background where a child named Bulbul was married to a man who was 3 times older than her. With the passage of time Bulbul started liking her brother-in-law who was of her age. When her husband got to know about this, he broke her legs with an iron rod. In the end Bulbul takes revenge from everyone and her image was created as goddess Kaali.
This movie is a must-watch movie with lots of suspense, thrill and somewhere horror.
OMG – Oh My God! (2012)
Oh My God! Is a philosophical drama, and satirical film written and directed by Umesh Shukla, officially remade from the 2001 Australian film "The man who sued god".
The storyline is based on a Gujarati stage play, where Kanji a businessman takes GOD to court when his home and property was destroyed due to an earthquake which is an act of god. He himself fought this case.
It is one of the best contributions to Indian cinema and Indian society. Dialogues of this movie are superb with logical points.
3 idiots (2009)
3 idiots is an Indian hindi-language comedy drama film directed by Rajkumar Hirani with co-writer Abhijit Joshi.
The film shows the friendship of 3 students of an Indian engineering college and is a satire about the social pressure under an Indian education system. The film is narrated through parallel dramas, one in the present and another ten years past. This movie basically teaches everyone not to run after success but to do hard work and success will come to you. This movie shows various phases of a student life where everyone is trying to cope up with their own problems. This movie also talks about the career pressure given by parents and teachers.
Every student and their parents must sit together and watch this movie. This movie is not only interesting but will also give lesson about friendship, career pressure, suicide and mental pressures.
Hope you liked the article...please like, comment and share :)
Click below to read 7 most compelling korean erotic movies you can't miss out!!!!
https://peppychunk.com/article/7-most-compelling-korean-erotic-movies-you-cant-miss-out-zb7f6kc