Is corona only for schools and colleges?
I know this title seems a bit weird but this was the topic suggested to me by my mother.
As we all are suffering in this pandemic, I guess the most affected field is education this time.
Schools and colleges are closed since March 2020. We are continuing our studies through
various online modes. But I can definitely say that these methods of teaching
are really difficult for teachers as well as students. We are unable to get a
proper study environment in these online classes.
Now the question arises, is corona only for schools and colleges? Because I think
everything has now opened. People are enjoying in malls, picnic spots, market
places, everywhere but when it comes to reopening of schools and colleges no
one wants to send their children to study there. Parents are happy to carry
their children to public places between thousands of people out of which
maximum are without any safety measures but sending their children to schools
or colleges has become a big issue.
I feel sad for the children who are going to have their boards this year. My younger
brother is himself in class 12 and going to appear for boards in May 2021. And
whenever I ask him about his studies his answer is always the same that we are
unable to understand the chapters and the method of teaching. They had their
internal exams online which were probably of no use. Those exams were just as a
revision sheets for them. Most of the children are not even attending their
classes. They simply open the classroom link and keep their mobile phones
aside. Now you people tell me is there any benefit of such study or classes?
Similarly with the students in third year or the engineering students or
medical students who actually need practical knowledge are wasting their time
sitting at home.
In my opinion the parents should support schools and colleges in their decisions of
reopening the centers and it is the duty of the faculty to arrange proper
sanitation, schedule and arrangements for the children. If you all can attend
functions, go to picnics, roam around the markets full of people then why can't
you attend your schools?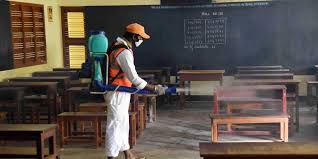 This could be a vast topic if it comes to discussion. Everyone has their own mindsets but
I just tried to keep my point of view in front of you all.
I will love to know your opinions as well on this topic. Do share your views in the comment
section below. Will reply to all.