As I sit by my window today, my mind reminiscences that the first 60 years of my life have been a chore, but the kind of life I lived in these past 2 years is what I would call a life worth living again. My name is Jenny, and this is my story of 'Old School Love'!
I have always been a quiet and shy one since childhood. I was never the one who started conversations. Though I had crushes on a few boys from my high school, I could never gather the courage to start a conversation with any of them. I believed in fairy tales with happily ever afters and dreamt of having one.
But at the age of 19, I was married off to a wealthy businessman named John. John was a good husband but a very ambitious man who wanted to make it big in the business world. We had our share of happy and fond memories, but we could never become the soulmates I yearned for. He fulfilled all my needs and luxuries, but we never shared our happiness and sorrows. He just didn't have time for us. And soon, the long and frequent business trips also started to take a toll on our marriage. A year into marriage, we were blessed with a son whom we named Arthur. Years went by, and my whole life revolved around him. I raised Arthur all by myself while his dad was away at work, and he grew up without a father figure in his life. By then, John started sailing high and was living his dream of success and fame. He became a multi-millionaire who lived out of his suitcase and would visit us only once a year. 
After living a "single life" until 30, John and I decided to amicably separate as there was no hope to reconcile. There was an agreement that I would continue to raise our son, and John would take care of only the fees. 
Years passed by in juggling between work and Arthur, with no time to have thought about myself. I never knew when Arthur turned into a young man who now had a family of his own, and I turned 60. Life after retirement made me realize how lonely I have been all my life. Every day was just the same without any change. One day, I found a letter from an old and dear friend of mine, addressed to me. I went back in, grabbed my spectacles, and read the whole letter. The letter said that a few old high school friends decided to meet on the weekend for a reunion. I decided to go because I wasn't sure if I could meet them again ever in my life. After a long argument, Arthur booked my travel tickets after promising him that I would take my medicines on time. I was very excited that I would finally have a good time with my old friends.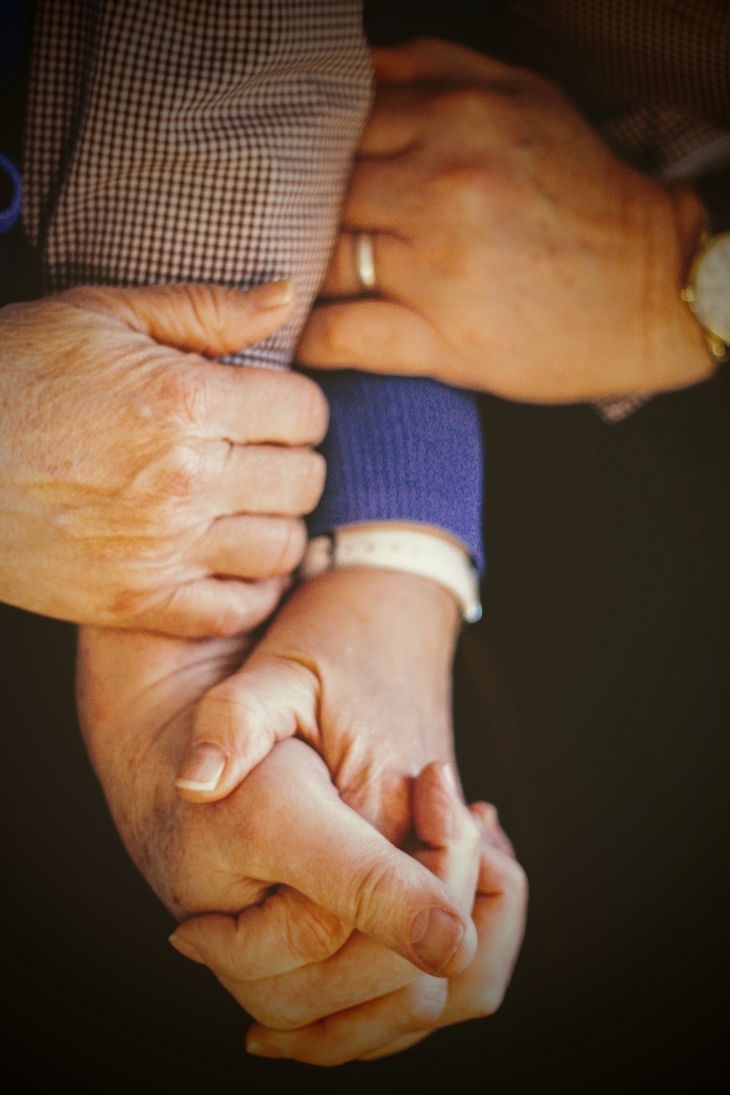 Finally, after waiting for 6 days, I traveled and reached the location mentioned in the letter. I guess I arrived much early because I couldn't see anyone in the banquet hall. While I was waiting for others to come, I saw James, my friend, walking along with someone else. I adjusted my spectacles and saw an old man with white hair, dressed in a red t-shirt and black trousers, with a stick in his right and his left hand held James' right arm tightly. He had a very charming face and walked carefully towards me in a slow gait. James asked me if I could guess who it was. I replied by saying I don't remember. That's when James unabashedly told me it was Aaron, THE Aaron Parker. He was great at school topper, our school football team captain, and he was the man who wore his heart on his sleeve. He was the heartthrob of our high school and every girl's crush at that time, including me. Though I never dared to express my feelings to him, I secretly adored him the most.
Since no one arrived by then, James left Aaron with me and went to have a look at the arrangements. Though we felt a little awkward at first, we slowly slipped into an easy conversation and talked for the whole evening, had dinner together too. He shared how his life has been, how he worked for the army, and never got married because he didn't want to keep someone else lose sleep over his well-being at the border. And I shared how lonely I felt even though I was married to John and also talked about Arthur. We just met a few hours ago, but both felt as if we had never gone out of contact and had always known each other. We shared our numbers and promised to meet again.
I waited for him to call me first and waited excitedly each day while I went on with my monotonous life. Days went by, and I started missing him and finally gave him a call by myself. He said he felt awkward to make the first move and waited for my call too. Our phone conversations lasted for hours as we old people didn't have much to do, and our fondness for each other increased by going day. We felt awkward and suppressed our feelings, thinking about how embarrassed Arthur would feel. After a year of suppressing our feelings, I discussed how I felt for Aaron with my son. Arthur was surprised and worried too at the same time. But when he met Aaron a week later, he was happy that I finally found my soulmate and would now get all the love and care I deserved but missed for all these years. 
After that talk, my mind was clear, and I proposed to Aaron on 11th December. And we ended up getting married on 25th December. Aaron was the best gift I received for that Christmas and for life too.  
We have been happily married for a year today, and I feel complete and ecstatic to have received all the love I needed and wanted! He makes me believe in love every day and that love can found in the most unexpected places and times. 
Aaron is my best friend, a great listener, a perfect companion, and most of all, MY SOULMATE.