Hi, in this article I am going to review a family web series PANCHAYAT.
Number of Episodes: 8
Number of seasons: 1
Genre: Comedy-Drama
Ratings: 4.9/5
Panchayat is a series which can be watched along with family. The main plot of this series a Engineer Abhishek Tripathi is forced to take up a job in a village called Phulera because he has no other option in hand, as there is lack of job opportunities for engineers in India. Also, he got a government job.
The Web Series has main characters as follows:
Abhishek Tripathi: Panchayat Secretary.
Manju Devi: Pradhan.
Brij Bhushan Dubey: Manju Devi's Husband; Pradhan-Pati.
Prahlad Pandey: Up- Pradhan
Vikas: Office Assistant.
Prateek: Abhishek's Friend.
Basically series starts with Abhishek that he has got government job as panchayat secretary in Phulera and he asks his friend Prateek to what to do? "This is your chance to be Mohan Bhargava from Swadesh, see the real India, See India from its root" words of advice from Prateek that Abhishek Tripathi receives an he takes bus to Phulera district in Uttar Pradesh. Then Abhishek reaches Phulera and he also takes his bike on bus and also gas stove which was one of the hilarious scene. Now, outside office Up- Pradhan and Vikas were waiting for their new panchayat secretary and they have 4 "Pethas" in a plate out of them they both eat 1-1 petha. Then, Abhishek arrives and they introduce themselves and tells him that Pradhan is bringing his office keys and then he gets to know that Manju Devi is official Pradhan but his husband is doing all works of Pradhan because he is Pradhan- Pati. Then Pradhan arrives and get to knows that he lost keys and can't break lock. And in bringing Key maker Vikas breaks Abhishek's bike's light and don't even brings key maker.
Abhishek and Vikas
Abhishek thinks he got stuck in village and decides to clear CAT and take admission in IIM and secure good job. He decides to study at night after his duty hours but isn't able to do that because of electricity issue. Then there was 13 solar lights to be putted in village out of which 11 already got planned to be installed near ward members house and 1 to be near Pradhan's house. Abhishek thought remaining 1 shall install near office it will help him into study at night. But that remaining light should be installed near "Bhootha Ped" said by one of ward members, but Abhishek proves there is no ghost in tree and installs that light outside his office and started his preparations. Then series show how he was facing problems like, he lost his wheel-chair (Chakke wali kursi) which he bought for himself in someone's else marriage unnecessarily(in EP. 3). Then, his monitor got stolen and all allegations were on him but lastly he received his monitor back because thief thought that it was T.V. Then, due to Vikas he got indulged in unnecessary fight. Then he was getting settled in village and started enjoying there.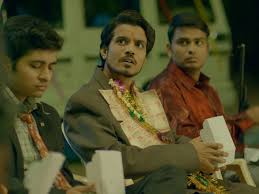 A scene from episode 3
Now he was going to give his CAT exams and Pradhan was confident that he will clear the exam and then he will marry his daughter Rinki with him as he was against dowry and one of the intelligent person. His exams was near and he got involved in a dispute among Husband and Wife that what should be their child's name he gives them a suggestion and solves the issue. Then when he gave his CAT exam he came very frustrated because he got 82 percentile but IIM needs 99 percentile. So, he thinks he can't do this in this life. Then he got taunts by Manju Devi for his result. But, he taunts her because of his duties as Pradhan. Now she gets motivated to hoist flag on Independence day, and takes Abhishek's help in learning National Anthem but she wasn't able to learn it. But she hoists flag and sings National Anthem because of some circumstances. And from this, Abhishek gets motivated for CAT exam and started preparation again.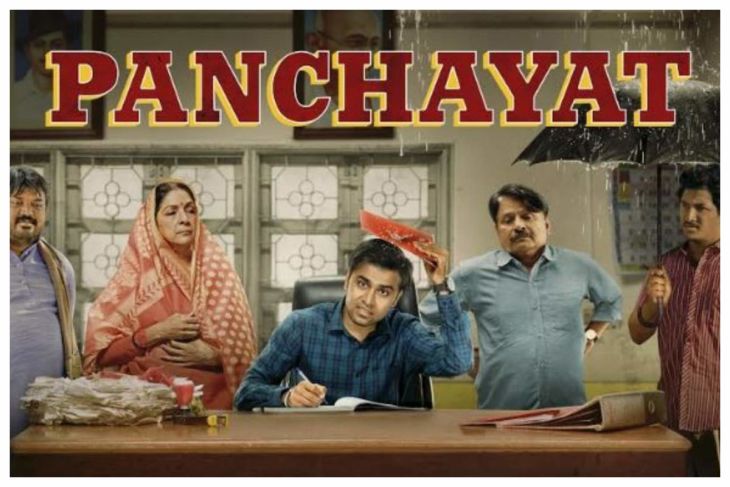 (Left to right); Prahlad Pandey, Manju Devi, Abhishek Tripathi, Brij Bhushan Dubey, Vikas.
Throughout the series, Vikas was constantly saying to visit Tanki once but Abhishek denied. But, the Series ended with Abhishek going up on Tanki and meets Pradhan's daughter Rinki and maybe its a sign that in season 2 there will be a love angle between them.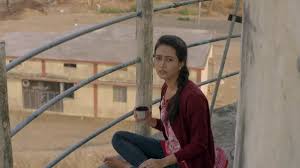 Rinki
This web series is best to watch along with family except Episode 6 due to some words.
Conclusion: It is a must watch series and it can be watched on Amazon Prime Video. Viewers are waiting for season 2 eagerly.
You must watch this series that how Abhishek Tripathi dealed with problems like "Bhootha Ped" and find out how Manju Devi hoisted flag?