"Our flag does not fly because the wind moves it...it flies with the last breath of each soldier who died protecting it."
Indian soil has seen many heroes, who will always be remembered with utmost respect and dignity and one of them was Rifleman Jaswant Singh Rawat who became the epitome of bravery and valour during the Sino-Indian/Indo-China war.
Rifleman Jaswant Singh Rawat was born on 19 August 1941 to Shri Guman Singh Rawat, at village Baryun in Pauri Garhwal district of Uttarakhand. Rifleman Jaswant Singh joined Indian Army on 19 Aug 1960 at the age of 19 years. He was recruited into 4th Garhwal Rifles of the Garhwal Rifles Regiment, known for its gallantry and many battle honours in various operations. During 1962 Indo-China war, Rifleman Jaswant Singh's unit was deployed in the NEFA region.
Battle of Nuranang(Arunanchal Pradesh)
It was the November of 1962, during the last phase of war , the army units were facing the shortage of manpower and ammunition. A Chinese medium machine gun (MMG) located at a vantage point close to the company lines was proving to be a dangerous menace. Rfn Jaswant, Lance Naik Trilok Singh Negi, and Rfn Gopal Singh Gusain decided to neutralize the threat and went after the Chinese MMG. Rawat and Gusain, aided by covering fire from Negi closed within a grenade-throwing distance of the machine gun position and neutralized the Chinese detachment of five sentries, seizing the MMG in the process. However, while returning, Gusain and Negi lost their lives and Rawat was seriously injured, although he managed to return with the captured weapon. 
In a battle that started on 17th November 1962 and continued for the next 72 hours, Jaswant Singh alone held the post, firing from different bunkers.
There were two local Mongpa girls Sela and Nura who helped Rfn Rawat by acting as porters, they supplied food to him, managed to set bunkers on different spots and maintained huge volume of fire , this made the Chinese army believe that they were facing the whole battalion, not just one man. By the time he was done, more than 300 Chinese soldiers had been killed.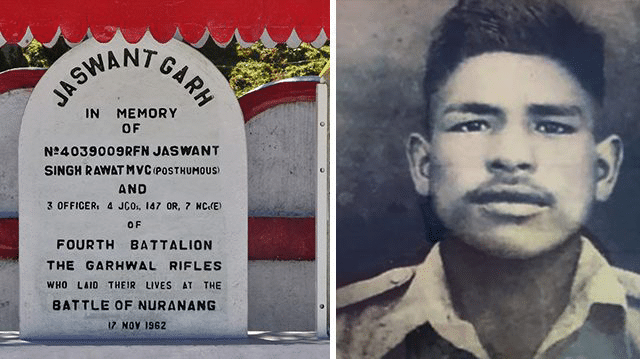 The Chinese then came to know about the reality and surrounded Jaswant Singh from all sides. Nura was captured and she committed suicide while Sela died in a grenade burst. 
There are various versions about Jaswant's death; some say he shot himself before being captured, while another version is that he was hanged by a tree with a telephone wire (both the tree and the wire still exist).
It is alleged that the Chinese carried Jaswant Singh's severed head back to China till a Chinese Commander who was impressed by his valour returned it. The Chinese Army even had a brass bust of the soldier commissioned which now sits at the site of the battle. 
The bravery shown by Jaswant Singh was honored by building a memorial at the post where he fended off the People's Libration Army  but lost .Jaswant Singh was awarded the Maha Vir Chakra (posthumously) for his exceptional bravery, unyielding fighting spirit, and supreme sacrifice. The post which he held was named "Jaswant Garh".Another honour bestowed upon him is that he continues to serve even after death; he has been awarded promotions as if he is still serving.
Jaswant Singh's comrades Lance Naik Trilok Singh Negi (posthumously), Rifle Man Gopal Singh were awarded the Vir Chakra. 4th Garhwal Rifles was awarded the 'battle honour Nuranang', the only battle honour awarded to an Army unit in the Sino-Indian war of 1962.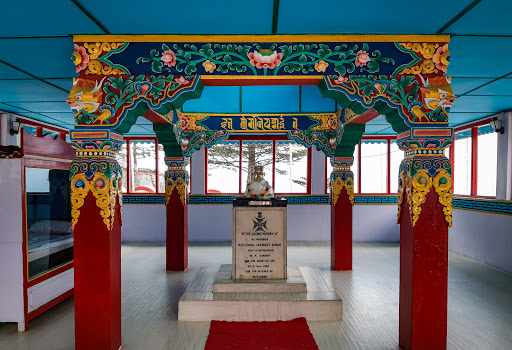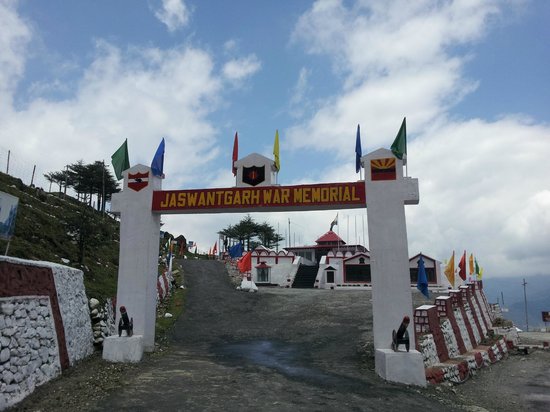 Sela and Nura's story is lost in the pages of history. Today 'Sela Pass' is a tourist destination based in Arunachal Pradesh which tells the legend of Sela, a local tribal girl who fought besides Rifleman Jaswant Singh against a might army of invaders. There is also a fall named 'Nura fall' in memory of the ordinary tribal girl who left her mark in pages of history.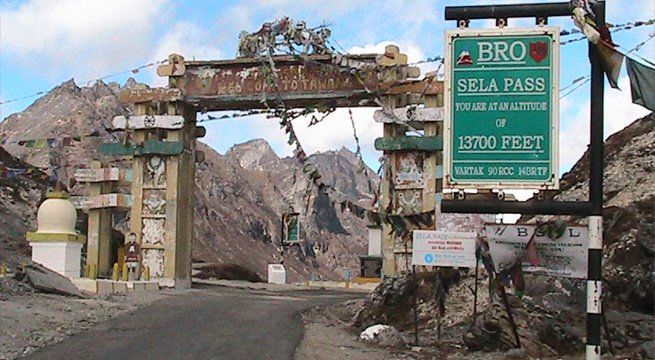 In 2019, a movie called 72 hours: Martyr who never died was made in honour of Rfn. Rawat and it got positive response from both critics and audience.
His determination to stand there alone, knowing that he will die in few hours , fighting till the last breath is the perfect example of 'Faith moves mountains'.
Not just this story , there are numerous stories of courage and valour.Let's take a moment to appreciate all these unsung heroes , by remembering that there were people who gave their lives fighting for their beloved country and keeping them alive in our memories!
Hope this article enriched your knowledge on Sino-Indian war(1962) and encouraged you to know more about these bravehearts !
Jai Hind!