The Palace on Wheels is the first Indian luxury train and is
the winner of PATA Gold Award and voted as the World's
4th Best Luxury Train in the world. India has 5 very
popular luxury trains:-
1. Maharajas' Express
2. Palace on Wheels
3. Royal Rajasthan on Wheels
4. The Golden Chariot
5. The Deccan Odyssey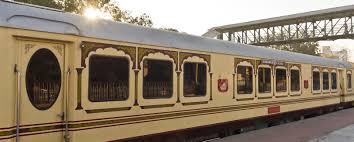 The main idea to introduce this train was to promote
tourism. Indian Railway in association with Rajasthan
Tourism Development Corporation. It was started on 26th
January 1982.
The train has a 7 nights & 8 days itinerary departing from
New Delhi and covers Jaipur, Sawai Madhopur and
Chittaurgarh, Udaipur, Jaisalmer, Jodhpur, Bharatpur and
Agra, return to New Delhi.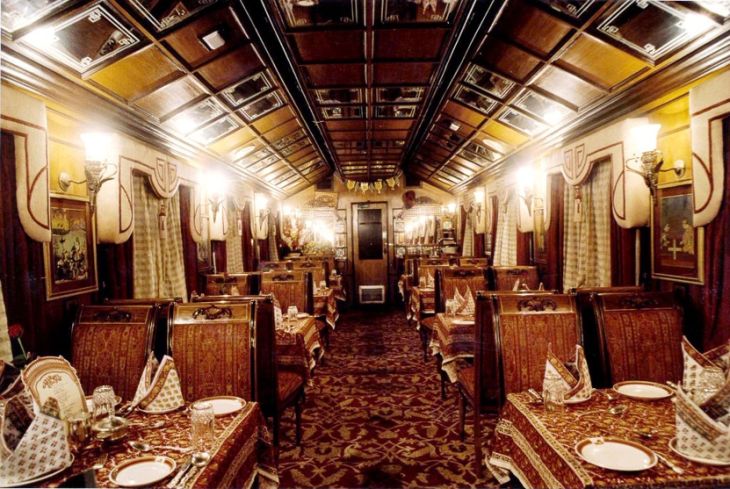 The 14 coaches of this train are named after erstwhile
Rajputana states, and accordingly are decorated with
Rajasthani art and crafts work.
ALWAR
BHARATPUR
BIKANER
BUNDI
DHOLPUR
DUNGARGARH
JAISALMER
JAIPUR
JHALAWAR
JODHPUR
KISHANGARH
KOTA
SIROHI
UDAIPUR
The train has recreation amenities as well including a mini
pantry, a lounge and also a facility of sitting area.
Cabin is equipped with channel music, hot & cold water,
shower, attached toilets, intercom and many more amenities. Each coach has four cabins with luxury
amenities and Wi-Fi internet.
The train has two restaurants,
The Maharaja and The Maharani, with a Rajasthani ambience serving continental,
Chinese cuisine, one bar-cum-lounge, 14 saloons and a
spa.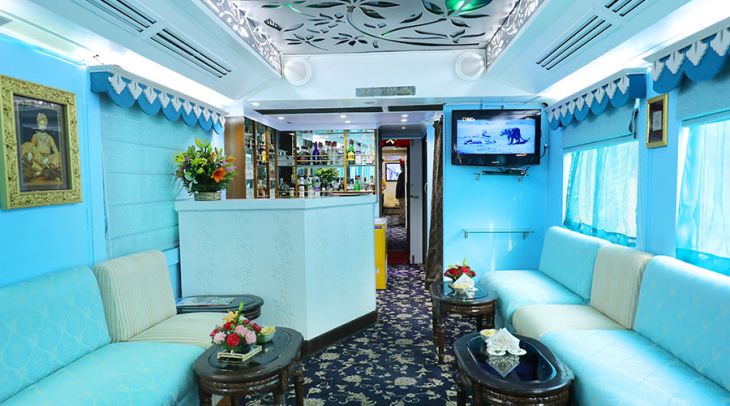 Palace on Wheels has two different styles of tariff. Based
on the climatic condition of India, divided into Peak and
Lean Season. Peak season starts in October and ends in
March and the lean season includes the month of
September and April. Below mentioned are the prices for
Indian Nationals.
Palace on Wheels Cost for Peak Season
Valid from (Jan 2020 to Mar 2020)
Total Cost Per Person
Deluxe Cabin on Single Occupancy
Rs 68,000/- Per Night
Rs 4,76,000/- (7N/8D)
Deluxe Cabin on Double Occupancy
Rs 39,000/- Per Night
Rs 2,73,000/- (7N/8D)
Super Deluxe Cabin on Single Occupancy
Rs 1,08,000/- Per Night
Rs 7,56,000/- (7N/8D)
Super Deluxe Cabin on Double Occupancy
Rs 54,000/- Per Night
Rs 3,78,000/- (7N/8D)
Palace on Wheels Cost for Lean Season
Valid for (Apr 2020)
Total Cost Per Person
Deluxe Cabin on Single Occupancy
Rs 54,400/- Per Night
Rs 3,80,800/- (7N/8D)
Deluxe Cabin on Double Occupancy
Rs 30,000/- Per Night
Rs 2,10,000/- (7N/8D)
Super Deluxe Cabin on Single Occupancy
Rs 1,08,000/- Per Night
Rs 7,56,000/- (7N/8D)
Super Deluxe Cabin on Double Occupancy
Rs 54,000/- Per Night
Rs 3,78,000/- (7N/8D)
ROYAL RAJASTHAN