March is celebrated as women's history month worldwide , so i thought why not highlight the life and contributions of our very own first female teacher called Savitribai Phule who is also referred as the Mother of Indian Feminism.
Savitribai Phule was born on 3 January 1831 in the village of Naigaon in Satara District, Maharashtra. She was the eldest daughter of Lakshmi and Khandoji Nevase Patil, both of whom belonged to the Mali Community.
At the time of her marriage Savitribai was an illiterate. Jyotirao (her husband)educated Savitribai at their home.After completing her primary education with Jyotirao,she enrolled herself in two teacher's training programs. The first was at institution run by an American missionary, Cynthia Farrar, in Ahmednagar. The second course was at a Normal School in Pune.Given her training, Savitribai may have been the first Indian woman teacher and headmistress. Savitribai's birthdate, i.e. 3 January, is celebrated as Balika Din in the whole of Maharashtra, especially in Girl's Schools.
Later, Jyotiba admitted Savitribai to a teachers' training Institute in Pune. After the training, Savitribai started teaching girls at Maharwada in Pune. Here, Sagunabai, Jyotiba's mentor and also an activist, supported Savitribai's efforts in this direction. Later, the couple along with Sagunabai, started their own school at Bhide Wada, which became India's first girl's school run by Indians. The school started with the nine girls, but the number increased to 25 gradually. Later, three more schools were opened for girls in Pune, with nearly 150 students altogether.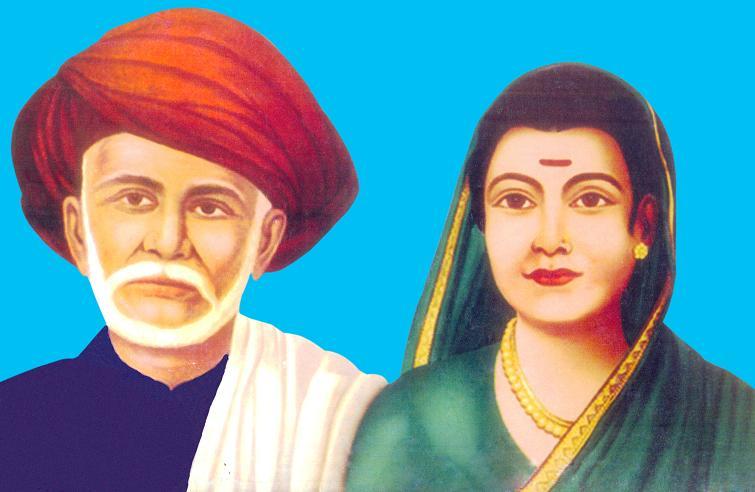 The couple introduced several innovative measures in teaching with a special focus on curriculum and teaching methods. They introduced stipends for students to motivate them to attend school. Also, regular parent-teacher meetings were arranged to educate parents on the importance of education. Consequently, the number of girls in their schools became higher than the boys enrolled in government schools in Pune.
However, the enrollment of students from the untouchable community angered orthodox upper-caste Hindus. So, they tried to close these schools. First, they spread rumours about Savitribai: her husband would die prematurely due to her schooling, her food is changing into worms and also that educated women start writing letters to unknown men. When these tales didn't discourage Savitribai, they started attacking her on her way to the school by throwing cow dung, eggs, tomatoes and stones at her. Gradually, Savitribai gained the courage to respond to these insults, saying, "Your efforts inspire me to continue my work. May god bless you." However, this public hooliganism stopped one day after Savitribai slapped a trouble monger and this act of her became sensational news across Pune.
Encouraged by improved enrollment, the couple opened a total of 18 schools for girls across Maharashtra from 1848 to 1852. Recognizing this feat, the British government honoured them. Afterwards, the couple opened a night school for women and the children of those from the working-class community. They set up 52 free hostels for poor students across Maharashtra.
Besides education, the couple involved themselves in several social service activities. On September 24, 1873, they set up 'Satya Shodhaka Samaja', a platform which was open to all, irrespective of their caste, religion or class hierarchies, with the sole motto to bring about social equity. As an extension, they started, 'Satya Shodhaka Marriage' where the marrying couple has to take a pledge to promote education and equality. 
Savitribai, a true feminist, set up Mahila Seva Mandali to raise awareness among women against child marriage, female foeticide and the sati system. At the time, widows were often sexually exploited and pregnant widows suffered even more physical abuse and humiliation. To address this problem, the couple set up Balyata Pratibandak Gruha, a childcare centre for the protection of pregnant widows and rape victims. Savitribai also encouraged the adoption of children borne out of such sexual abuse. She opened an ashram for widows and orphans. She organised a boycott by barbers against the tradition of head tonsuring of widows. Savitribai appealed to women to come out of the caste barriers and encouraged them to sit together at her meetings.
She was also a prolific author and poet. She published Kavya Phule in 1854 and Bavan Kashi Subodh Ratnakar in 1892, and also a poem entitled "Go, Get Education" in which she encouraged those who are oppressed to free themselves by obtaining an education. As a result of her experience and work, she became an ardent feminist.
In 1897, when Maharashtra was hit by Bubonic Plague, she responded quickly by setting up a clinic for patients with the support of her son, a medical professional. She dedicated all her time and resources at their service and also served free meals daily to nearly 2,000 children of the affected families. One such day, when she physically carried an infected child to the hospital, she too got infected. Consequently, Savitribai died on March 10 of the same year.
Complete women empowerment is still a dream in India and Savitribai and her husband Jyotiba are the perfect example of what a woman and her husband are capable of doing and what true feminism is ,they are the epitome of courage and determination to restore basic human rights like right to education for girls , freedom etc. and for eradicating evil practices like Sati , untouchability and child marriage.Their contributions shall always be remembered by all of us!