Welcome Readers,
It's an obvious and evident fact that God has made and sent us on this planet for a special purpose other than being involved in money and become successful for our family's pride as usual. We all have that one unique reason to live a life of a human being. A reason which is far from earning wealth, a reason which is selfless, a reason which is noble and can be helpful for needy people. Isn't! But how many of you get a victory to serve your selfless service to society? Come on let's face it. We all know the answer really very well. Unfortunately, we forget about our duties towards humanity and society. But there are some extraordinarily amazing people who, despite their education, financial status, religion, or caste do such mindblowing work for our environment that even people with so-called wealth, degree, and high standards found themselves worthless in front of them.
By the title of this article, you must have assumed that we are going to talk about a person who has done a miracle for our nature. A person who has planted Ten Million Trees. Yes, you heard it Right! TEN MILLION TREES. Today we will talk about DARIPALLI RAMAIAH, The Green Warrior, and The Encyclopedia of Plants.
Daripalli Ramaiah is an Indian Social Worker born in 1937 in a remote village called Reddypally which is in Telangana. He has done his schooling till 10th standard but his knowledge and memory towards Nature is surprisingly unbeatable. The 84 year Tree Conservationist is also a Padma Shri Award Winner of 2017 for his priceless yet precious contribution to the Environment.
Talking about when and where he started doing this noble work, he exactly didn't remember the time but he used to keep an eye on his mother who preserved the leftover seeds to grow plants from them. As an ordinary child, Ramaiah was quite curious about this process and he also started to collect the seeds for the plantation. As a teenager and then an adult he made this a mission to grow trees by covering the maximum areas of Barren Land. Daripalli Ramaiah is so into growing trees and protecting nature that he sold his more than 3 acres of land to purchase a large amount of manure, samplings, and seeds.
Daripalli Ramaiah also quoted a simple yet difficult to perform statement in action which is- PLANT A TREE, SAVE A LIFE. We all have read or heard this famous quote in newspapers, magazines and headlines but none of us took such an initiative to perform this quote in spite having various educational certificates and degrees. On the other hand Daripalli who is not even a graduate or any specific certification holder in plantation and agriculture performed the mission of Planting Ten Million Trees because of his affection and respect towards our mother Earth and Nature. He is definitely a perfect example for proving those people wrong who still have this stereotype thought in their narrow mind that higher education and money is all you need to perform such miracles. A person like him is truly an inspiration for the youth who are unable to involve in any kind of noble work because of their educational degrees that are not even going to give them a single piece of satisfaction because of the fact that we get much satisfaction and motivation when we perform something beneficial for our soeity and nature. Right!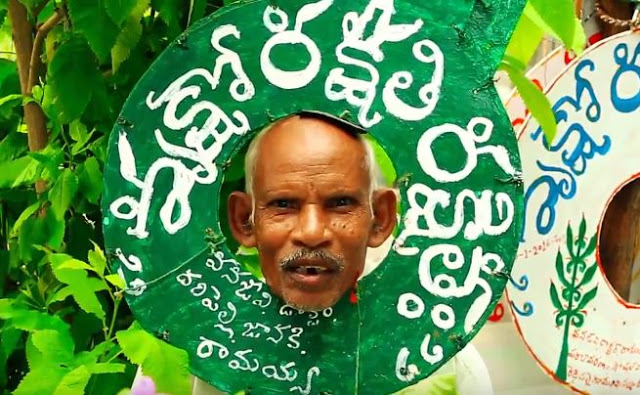 Daripalli Ramaiah isalso known as Vanjeevi Ramaiah and Chetla Ramaiah for his selfless contribution towards the environment. This ordinary looking common man is undoubtedly a super hero to read and research about, for further generations. The Ten Million Trees he has planted in Khammam, Telengana are useful for various important purposes. His planted trees provide shade and shelter, tasteful fruits and some of them are biodiseal that are undoubtedly beneficial for the future generations~ assured by Ramaiah.
A famous telugu writer Naresh Jilla has also written a Biography Book for our Green Warrior named- Vitthanam Nundi Padmam Varaku Vanjeevi Pranayam describing his journey and experience from a curious child to a Padma Shri Award winner. The book also depicts his principles and personal study about plants and environment. Though he is not even much educated, still he has read a great number of books on the study of plants and process of plantation and by using his bookish knowledge along with experience he carefully studies the nature of land and then he plants the required type of seed there.
Besides winning the Padma Shri Award he also won Seva Award in 1995, Vanmitra Award in 2005 and National Innovations and Outstanding Traditional Knowledge Award in 2015.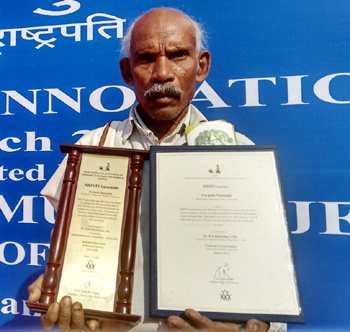 In the conclusion, I would like to say that people like DARIPALLI RAMAIAH surely deserves much more respect and consideration for what he is contributing for our planet without expecting any kind of monetary benefits in return. We all are tenants of Earth and it's our duty to protect the Nature and for that we must need to begin planting at least 10 samplings an year. If people like Daripalli Ramaiah can complete such an impossible mission without having any special facilities and knowledge then being a part of this modern, educated and intelligent generation, we must do something selfless for our Soceity. We must read and appreciate the work done by people like Daripalli Ramaiah because following such noble people and their thought process is the only way to learn and grasp good positive things in life from them.
Thank You!