Profoundly known as the 'Bear man' – Kartick Satyanarayan is the co-founder of WildlifeSOS – a non-profit Wildlife conservation organization famous for its campaign to rescue every "dancing" bear in the country. For several years, dancing sloth bears were the main source of livelihood of the Kalandar community. However, the scope of this organization is larger than bears.This practice involves extreme cruelty towards bears which in fact dangers the bear
population and is illegal in the language of law. He began this organization in 1995 along with his aunt and fellow animal right champion Geeta Seshamani and since then they have rescued over 550 bears.As a child, Satyanarayan began rescuing animals. Although he majored in business management, he was always aligned towards his love for animals and started working as an assistant tracking tigers for the Wildlife Conservation Society.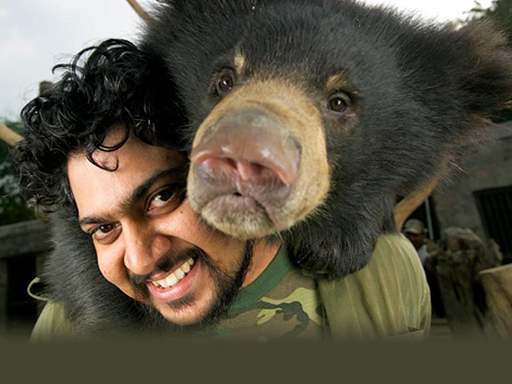 I am always of the opinion that 'anyone who has no feelings for animals is dead at heart'. Kartick Satyanarayan is a living example of abundance of love and affection towards animals. His assiduous nature made him wander in the forests and watch wildlife perch in the treetops.His constant efforts for rescuing injured animals and rehabilitate them through his organization has inspired me to my bit by sheltering our domestic animals and providing them a better life.
There have been times where I just felt helpless on seeing these animals suffer and wasn't able to do a thing about it. But as soon as I read this inspiring story of the 'Bear Man' it changed my outlook. The recent incident of the pregnant elephant losing her life because of the fruit that was offered to her full of firecrackers or the incident where the animal activists were brutally hit for protecting the dogs, is of immense shame and disgust on human race.Generally we see how humans brutally treat dogs and other animals by taking advantage of their tolerance and inability to express hurt, we see them injured and lying on streets with no help, the need to help and protect them has always been my aim, as it breaks to see them suffer out of brutal cruelty exhibited on them.Feeling helpless is never an option, as a human you're granted with immense power to provide comfort and love to other livings. I started my bit by creating small wooden shelters for the local dogs, these woods I usually procured from a wood-dealing shops, where this
extra wood of no use to them. Requested the local residents to deposit any extra chappatis and bread loaf in a bag so that it can later be distributed to the dogs. Honestly, working and providing them with a new sense of living made me internally very happy because I could personally assure their safety, and what's above all of this was the feeling of gratitude the dogs shower me with along with their love and affection, their eyes shining with contentment was all I needed to feel myself at peace.
Perhaps I can say, Kartick loved being with the bears because they never let him feel bad unlike the human irony, as I feel the same when doing anything for the dogs.We as humans, fail to realize that life is a precious gift and we should value every living on this planet, without taking for granted each other's lives. This evolution in our thoughts will be
the biggest and the indeed the best in the history of evolution, as with the dying humanity and increased number of crimes, the only thing we need to revive humanity is the need for extracting the humanity within ourselves. Kindly do your bit by being kind, as it costs nothing to be kind. As, no matter how few possessions or little money you own, loving wildlife and nature will make you rich beyond any measure.
https://www.ted.com/speakers/kartick_satyanarayan - You can access this link to know
Kartick Satyanarayana's story better.