Hello readers,
We all fell in love once in our life. But it's not assured that we get love in return from that person. Sometimes, we get love in return but sometimes it turns into heartbreak. So today I am here with the review of an amazing book which is all about heartbreak and how to heal it.
Why Not Me? A feeling of millions
By Anubhav Aggarwal
It is a book which is all about a boy named "Anubhav". He met a girl "Zoya" through social media. They had a strong friendship of 4 years. He falls in love with Zoya. He waits for Zoya to fall in love with him. But the time never came. He has fallen in love with a person who never really cared about him. He had thought that if Zoya ever left him, he would be devastated. Turns out, it is the best gift ever. He looks back to his journey from becoming a friend to a heartbreak.
In this book, Anubhav expresses in words what countless others have felt. He gives a message to the world that a broken heart can make you a stronger person.
The book insists the person to love yourself again.
'After having your heart broken, many people will tell you what to do and how to do it. But the only person that can save you from the pain is yourself.'
It is a very amazing book. Most of the person in this world experience heartbreak. Some manage to heal it. But some doesn't able to move on. This book is the solution to those who are not able to move on.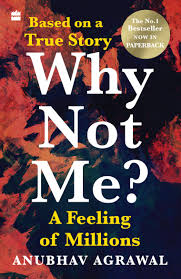 Thank you...
It is available on Amazon as well as on Flipkart. So hurry up and buy it. If you are experiencing the same. It is the best solution providing book to broken hearts.
I hope you may like it. Don't forget to give feedback in the comments.